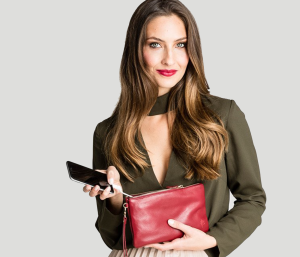 In this ultra connected IoT enabled age where hand written letters and flowers can be replaced by those romantic videos and emails, consider bringing your sweetheart that ultimate in Valentine's day gifts.
In the past, people met through social groups family or friends. Today this has been replaced somewhat by online friends, dating and chat sites. These days couples often text instead of speaking, use email instead of writing letters and video chat instead of direct communications. So why not consider extending the communication of your relationship with a very practical yet romantic gift.
Our friends at HButler have created the Mighty Purse Zipper Wallet. At only 7.5 oz and made out of high quality Saffiano genuine leather this looks like an elegant wallet. However, this handbag enables your loved one to charge your smart (Android or iOS) device. Within the Mighty Purse is a lightweight rechargeable 4000mAh battery that through a flick of your hand will keep your device topped up. Simply plug into a USB port of your phone charger or computer.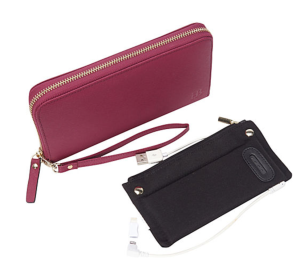 This year for Valentine's day, perhaps consider replacing that "same old" expensive chocolates and flowers with the ultra romantic tech gift that will have your loved one thinking of you every time the call, chat, text and tweet.
Features and Specifications
Dimensions L x W x H : 4.33″ high x 7.87″ wide x 0.98″ deep
Weight: 7.05oz
Materials: High quality textured Saffiano genuine leather
Colors: Black, Tan, Grey, Red
Batteries: Built-in 4000mAh battery
Battery Status: LED charge indicator.
Storage:

Two full length billfolds
Zippered coin compartment
Detachable wristlet
8 credit card slots
Zip around closure

Compatibility: iOS and Android phones with a micro USB port.
For more information or to acquire the: The Mighty Purse Zipper Wallet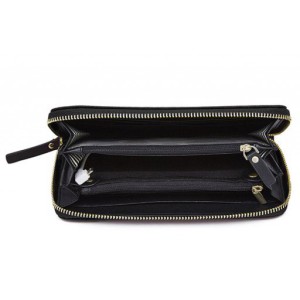 About HButler

HButler was established in 2008 by husband and wife team, Ana Slavka and Stephan Kljajic. HButler has built a credible reputation as a gift (handbag accessories) company, which has made significant inroads into the gift, fashion and accessory market.