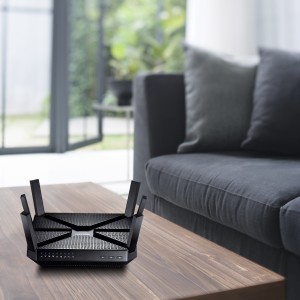 From its inception in the 1960s, the router has matured along with the internet. With the evolution of IoT, home routing technology has radically changed the way we connect to and protect our homes. Wireless routers are transforming to meet the ever changing demands of the modern home with its multiple iOT enabled devices phones, tablets and laptops and the connected home.
Our friends at TP-Link have risen to this challenge with the reliable, efficient and affordable Archer AC3200 Tri-Band Gigabit Wireless Router router.
The antennas operate three separate concurrent wireless Wi-Fi bands for connecting more devices to your network. Each of these networks have their own router names (SSID) that can be customized with the Smart Connect software. Smart Connect helps devices run faster by assigning them to the best available channel.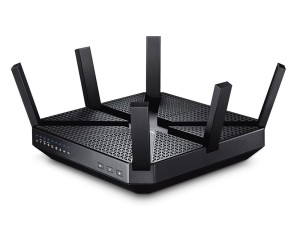 The Archer C3200 router is powered by a 1.4GHz Dual-Core CPU processor and 2 co-processors. It has 256MB DDR3 RAM and 128MB flash memory. Six high performance dual band antennas manage the 2.4 GHz and 5 GHz band. From a wired standpoint, the Archer C3200 has four Gigabit Ethernet ports. There are USB 3.0 and USB 2.0 ports which make it easy to share photos, videos, and music on your home network. The light NAS (Network Attached Storage) features allow you to share content via FTP, DLNA, or SMB.
The Quick Installation Guide provides the user with easy to understand instructions to configure the router.Setup, configuration and management of the Archer C3200 can be easily done through the free TP-LINK Tether app that works on iOS or Android devices. For users who like to manage their home network you can easily whitelist or blacklist MAC addresses, configure IPv6 tunnels, apply QoS (Quality of Service) rules, as well as segment my network.
Although the router is very secure, for the networker at heart you can configure advanced security features including NAT, ALGs and segmented DMZs
Features and Specifications
Dimensions L x W x H : 1.50″ x 7.90″ x 7.90″
Weight: 1.4 Kg
Color: Black finished design
Wi-Fi Speed: 5GHz 2167Mbps + 2.4GHz 1000Mbps
CPU: 1.4GHz Dual-Core CPU and 2 co-processors
Ports: 4x Gigabit Ethernet ports, 1 USB 3.0 port, 1 USB 2.0 port
Advanced Security: 64/128-bit WEP, WPA/WPA2, WPA-PSK/WPA-PSK2 encryption
Antennas: 6x high-performance external antennas
VPN Support: PTP, L2TP, IPSec
App: TP-LINK Tether Android and iOS app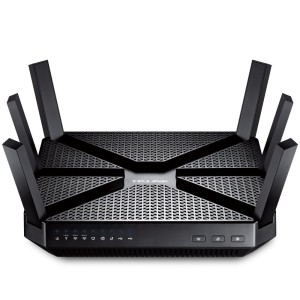 For more information or to acquire the: TP-Link AC3200 Tri-Band Gigabit Wireless Router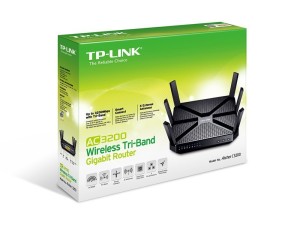 About TP-Link
Founded in 1996, TP-Link is a global provider of reliable networking devices and accessories, involved in all aspects of everyday life. The company is consistently ranked by analyst firm IDC as the No. 1 provider of WLAN and broadband CPE devices*, supplying distribution to more than 120 countries and serving hundreds of millions of people worldwide.