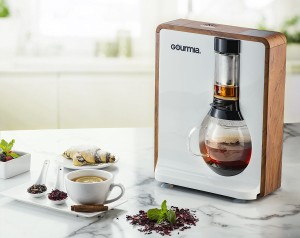 There is very little Internet of Things will not touch.
Created in 1982 in Carnegie Mellon University by a group of computer science grad students who wanted to connect the Coke machine on the third floor to the university's computer network, IOT has come a long way. According to IDC, IoT spending is forecast to reach $737 billion in 2016 and growing. It is expected to reach nearly $1.29 trillion over the next three years. At this year's CES we saw IoT extend its reach into the Kitchen.
Our friends at Gourmia upgraded your Kitchen with Smart IoT enabled Products. The Gourmia mobile kitchen App for iOS and Android will connect users to Intelligent Gourmia appliances. My favorite of these appliances is the Gourmia GTC8000 Fusion Tea Loose Leaf Tea Maker
Elegantly chiseled glass partnered within a stainless steel brew chamber and carafe, this esthetically pleasing tea maker is stunning to look at and technologically wondrous.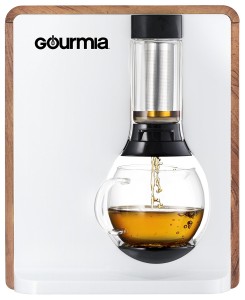 Following the art of brewing loose leaf teas, Gourmia has introduced the Tea-Square personal brewing system. The refresh button on the Gourmia Fusion Tea Loose Leaf Tea Maker heats and introduces a small amount of water over the tea leaves in the glass chamber. This rinses and refreshes the leaves (in anticipation of the fast infusion cycle to follow). Upon selecting your brew setting (light, medium, strong), the Gourmia Fusion Tea Loose Leaf Tea Maker will brew your tea optimally to perfection.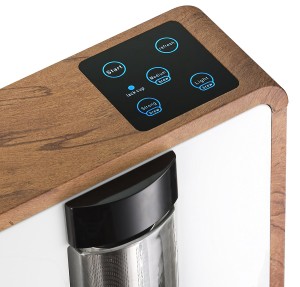 With the Gourmia mobile mobile app technology, users can control the temperature, turn the appliance off and on and automatically brew your loose leaf tea of choice. By using Alexa voice control, users can even speak to the Gourmia GTC8000 Fusion Tea Loose Leaf Tea Maker, from the other room, their office and commuting home. As all tea connoisseur has their specific taste, the Gourmia app allows for optimal selection for every tea type and the mobile app will automatically programs the unit accordingly so that the user can have fresh tea waiting for them.
Having observed the brewing perfection of the Gourmia Fusion Tea Loose Leaf Tea Maker at CES and having this device tantalize my viewing, smelling and tasting senses, I can say unequivocally that this device would be an amazing addition to anyones kitchen.
The Internet of Things has become the Internet of Gourmia with the introduction of Gourmia Smart Kitchen appliances.
Features and Specifications
Dimensions L x W x H : 6 x 8 x 14 inches
Weight: 4.9 pounds
Capacity: 4 cup/800ml tank brew system
Materials: Glass and Stainless Steel Brew Chamber + Carafe
Tea Variety: white, green, oolong and black
Safety: Unit will not operate unless the carafe is in place
Features:

Three brew settings (light, medium and strong) plus a "refresh" setting to prep and hydrate your tea before brewing
Also Brews Coffee
Enabled with Alexa voice control (Future)

App:

Gourmia IoT-empowered mobile kitchen app
Free on Google Play Store and Apple's App Store
For more information or to acquire the: Gourmia GTC8000 Fusion Tea Loose Leaf Tea Maker
About Gourmia
Headquartered in Brooklyn, NY, Gourmia is passionate about cooking and the tools for the healthy lifestyle.