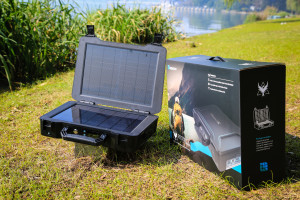 Winter weather is a constant reminder that power outages can occur from a variety of situations,
Recently a power outage in Eastern Canada resulted in thousands of customers without electricity for several days. A spokesman for New Brunswick power confirmed the total affected by the ice storm was more than 133,000 customers. During the outage temperatures dropped to –27 C overnight and the wind chill on the weekend was –29. Approximately four hundred poles in the region needed to be replaced.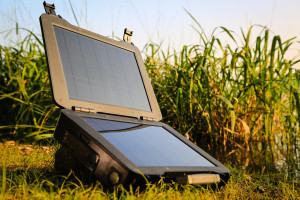 Our friends at Renogy have designed the Phoenix Solar Powered Generator Briefcase for emergencies like this. Perfect to help users get emergency communication back up, specifically designed for mobile, off-grid applications and ideal for emergencies, the Phoenix Solar Powered Generator Briefcase is a compact, lightweight back-up system that can be charged by solar, AC power, or car power.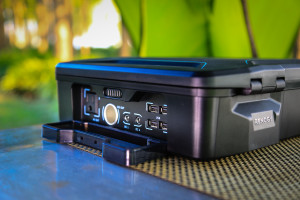 Powered by a 16Ah Li-ion(NMC) battery the Phoenix Solar Powered Generator Briefcase is ideal for powering several on-the-go appliances including your smart phone, laptop, hotspot or tablet. Unlike its gas powered legacy generators, it is fume free and safe for use indoors.
In addition to emergency situations, this device is ideal clean energy power source for camping, tailgating or survivalist excursions. The Phoenix Solar Powered Generator Briefcase is waterproof, weatherproof (works in -20~60C°), made out sturdy Industrial Design Material (ABS + PC + Aluminum) and the 16Ah Li-ion(NMC) battery is replaceable.
Features and Specifications
Dimensions (Lx Wx H): 16.24" x 11.95" x 3.94" Inches
Weight: 12.8 lbs
Display: LCD
Battery

Type: Replaceable Li-ion(NMC)
Capacity: 16Ah
Life: 1500 cycles

Internals: 10 Amp MPPT,  30V volt solar input
Outputs: 1 x 110V AC, 1 x 12V CIG, 2 x 12V DC, 4 x USB (6A Max)
Charge Time:

100 Watt Solar – 2.5 hours (one solar panel),
AC input – 5 hours,
Car Charging – 7.5 hours

Sample Usage Times:

GoPro (1160 mAH) 47 Charges,
iPhone 6s (1715 mAH) 32 Charges,
Galaxy S6 (2550 mAH) 22 Charges,
IPAD AIR 2 (1160 mAH) 8 Charges,
Kindle Oasis (1160 mAH) 230 Charges,
DSLR Camera (1080 mAH) 25 Charges,
Laptop (40 Wh) 5 Charges
For more information or to acquire the: Phoenix Solar Powered Generator Briefcase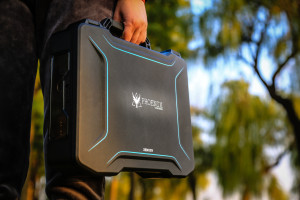 About Renogy
Renogy is a leading expert in renewable energy specializing in Solar. Founded in 2010, Renogy aims to revolutionize the renewable energy industry by offering reliable and cost-effective solutions that are consumer friendly, plug-and-play, and environmentally safe.