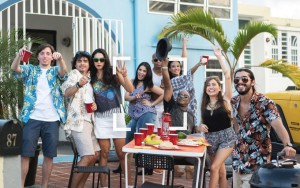 The selfie has revolutionized the way we look at the world around us and ourselves.
Whether at school, or at a famous landmark the selfie seems to have become the standard for photography. Like it or not, selfies encourage consumers to express and celebrate oneself. This is why I fell in love with the latest in selfie tech that can fit in the palm of your hand.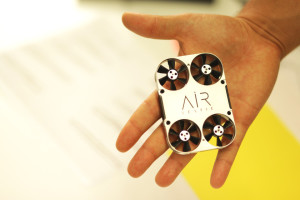 The AirSelfie is the world's smallest portable flying camera. At just 61 grams and   67.4 * 94.5 * 10.6mm, you can easily slip the gadget into your pocket or purse. Unlike those tedious selfie stick, no physical tether is required. This mobile, small, light weight device connects via WiFi to your cell phone and takes an aeronautical photo via a 5 Megapixel HD video camera.
How does the a AirSelfie work? It is simple, four turbo fan propellers powered by brushless motors enable the AirSelfie to fly, move and hover in place.  To control or fly this mini drone you will need your iPhone or Android device.  Connect your phone to the AirSelfie self generated 2.4 GHz Wifi network. Now you are ready to take photos. Simply utilize one of three options for control the AirSelfie
Selfie mode: two directional buttons to make AirSelfie move far or close to you
Selfie Motion Control mode: Real time Control with the App virtual joystick
Flying mode: Horizontal hovering function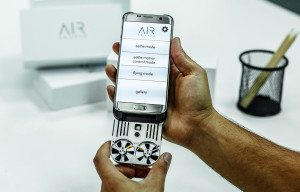 And once you have gotten the perfect pictures, you can post it automatically on your social media account, integrated into the app.
With the AirSelfie you can also purchase an additional power bank.  This sleeve will allow you to charge the AirSelfie, providing you with up to 20 times more charges before the AirSelfie runs out of charge, thus allowing AirSelfie a flight autonomy of 1 hour overall.  If you are interested in purchasing this cool product, it is available online for Pre Order.
 I love it that the AirSelfie has taken photography to the next level.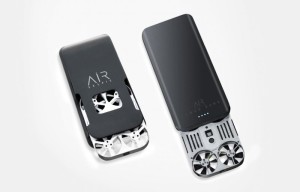 Features and Specifications
Dimensions L x W x H : 3.72*2.65*0.42in
Weight: 61g
Materials: Aluminum Housing with anodize process
Connectivity: Self generated 2.4 GHz Wifi network
Power:

Batteries: Rechargeable 240mAh 7.4v Built-in Battery via Micro USB cable
Integrated AirSelfie Power Bank (cover)
Battery recharges in 30 minutes

Features:

Time: Hover in a 20m radius for up to 3 minutes
Social Integration: Post straight to social media
Storage: Built-in Micro SD card 4GB

Camera:

Video:1080p 30fps
Photo:5M pixel

App: AirSelfie app available for iOS and Android.
Status: Available on Kickstarter for Preorder. Deliveries will begin in May 2017
For more information or to acquire the: AirSelfie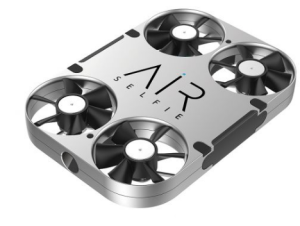 About AirSelfie Holdings Ltd London

AirSelfie was born from the gritty intuition of Co-Founder Edorardo Stroppiana, combined with the love of passionate individuals for technology. We are a vibrant International team who decided to go beyond standard perspectives and the usual rules.