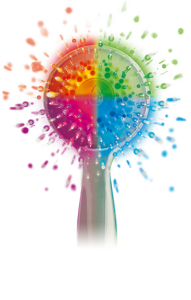 Water consumption by Adolescents are on the rise.
I know that many of our readers have teenagers who seem to enjoy their showers. One of our readers in an email indicated that
"We have a teen boy in the house who just loves to take showers and stays in the shower stall forever. Sometimes I can hear him singing in there"
Normally I would have responded to the email by saying, you should rejoice that your son is taking a shower, what is his song repertoire? However given the rising prices in water I think I can understand this reader's concerns. Rather than resorting to pounding on the door or flushing the toilet (to change the temperature) we have come up with a high tech alternative that will get the teen's attention.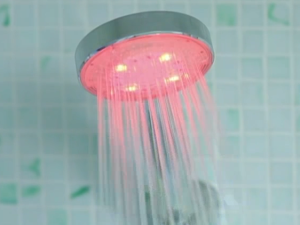 The Hydrao First smart shower heads is a way to visually educate and reduce water consumption. Easily to install and powered by the water's natural flow in the shower, the Blue's Hydrao First changes colors depending on water consumption.
Up to 10 liters (approx. 21⁄2 gallons) = green
Up to 20L (51⁄4 gal.) = blue; up to 30L (8 gal.) = purple
Up to 40L (101⁄2 gal.) = red
Beyond 40L (101⁄2 gal.) the lights flash red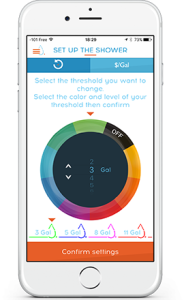 How does this device work? Well the water flow running through the Hydrao First smart shower heads drives a miniature turbine. The shower head leverages Bluetooth 4.0 to connect to your smart phone. As each family and family member are different, the Hydrao First smart shower App enables you to customize the thresholds on the multi-color LED system and monitor your water usage and savings by individual profiles or as a group. You can set up 4 water usage thresholds and can compare usage.
The great thing is the savings in water consumption provided by this gadget will pay for itself.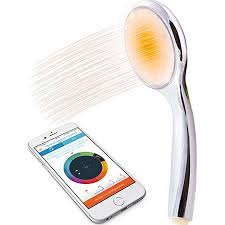 Features and Specifications
Dimensions L x W x H : 10-1/4" H X 4-1/8" in diameter
Materials: Triple layer chrome finish, with an anti-lime protection
Connectivity: Bluetooth 4.0
Batteries: None, powered by the shower's natural water-flow
Features:

Designed to fit a standard shower
Stores data from 1,000 showers
Memorizes your reference shower
Measures the water consumption
Set up the 4 water usage Thresholds

App:
HYDRAO SMART SHOWER APP
Compatible with iOS 7+ and Android 4.3+ Phones
For more information or to acquire the: Blue's Hydrao First smart shower heads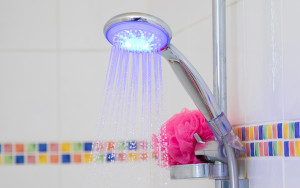 About Smart & Blue

Smart & Blue is an innovation leader in smart solutions for water conservation. Headquartered in Grenoble, France, the company was founded by founder Gabriel Dell Monica in 2015