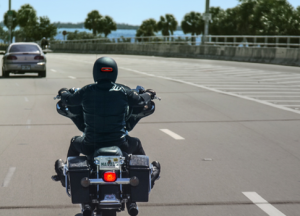 Just in time for the spring release of Motorcycles, Mopeds and other electronic two wheeled vehicles comes the Cosmo Connected mobile helmet brake light. French company Cosmo Connected have developed a light weight polycarbonate and EPDM mobile helmet that helps alert when a deceleration of a motorcycle driver occurs.
Whether, New York, Paris, Toronto, or some smaller city, it is easy to see why driving a motorcycle safely can be challenging. In the city or on the highway, whether you are driving a motorcycle or a car, it is common place to witness a serious motorcycle accident. The U.S. National Highway Traffic Safety Administration found that, between 1997 and 2008, annual motorcycle fatalities in the United States increased by 150 per cent. And so to show this trend has not decreased, recent stats show that total of 4,693 motorcyclists died in crashes in 2015 which accounted for 13 percent of all motor vehicle crash deaths. Riders 40 years old plus accounted for the majority of these fatalities.
The sleekly designed Cosmo Connected mobile helmet brake light comes in an array of colors (Dark Grey, Silver, White, Shiny White, Black, Shiny Black) and easily and elegantly can be attached to the curve of any motorcycle (and some bicycle helmets). The Cosmo Connected helmet Brake Light clips on and off of with a base magnetic base affixed to the back of the helmet. The Helmet Brake Light pairs with any iOS or Android phone via the magic of BLE Bluetooth Low Energy.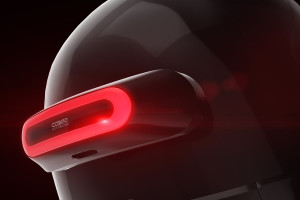 The LEDs attached to a motorcyclist's helmet leverage a built-in gyroscope to determine if the rider has shown down, been in an accident or has fallen over. At first the App will try to reach the driver. If the rider does not respond within three minutes, it contacts family and friends and sends GPS coordinates to emergency responders along with the medical profile of the driver.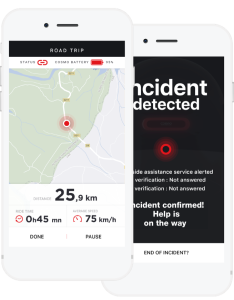 Although specifically targeted to motorcyclists, the Cosmo Connected helmet Brake Light can be used by bicyclists or skateboarders. You can purchase a Cosmo Connected helmet Brake Light via its Kickstarter campaign for the next 45 days at the price of $119. The early bird special start at $99 with delivery slated for July 2017. The regular price is $149 for aluminum and $249 for carbon. Consumers have the option to buy four and get one free.
Features and Specifications
Weight: Approximately 5.3 ounces
Material: Lightweight polycarbonate and EPDM rubber
Colors: Dark Grey, Silver, White, Shiny White, Black, Shiny Black
Connection: BLE Bluetooth Low Energy
Battery:

Battery type: 900mAh Lithium Ion rechargeable battery
Battery Life: 5hours to 8 hours
Rechargeable: via a mini USB port

App: Works with IOS and Android smartphones
For more information or to acquire the: Cosmo Connected helmet Brake Light

About Cosmo Connected
Cosmo Connected is a Parisian startup specializing in the development of connected objects for the physical safety of motorcyclists. Romain Afflelou is the Chairman, Frederic Metge is the CEO and Laurent de Bernede is the COO.