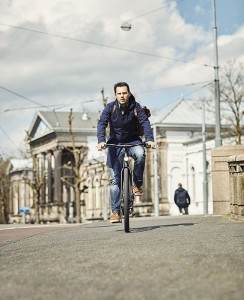 Having experienced the thrill of riding around the city on two wheels and also the agony of having my bike stolen I turned to the internet for a high tech solution. VanMoof, an Amsterdam-based cycling company has developed an Electric bike that will address the need for speed and guarantee to give bike thieves migraines.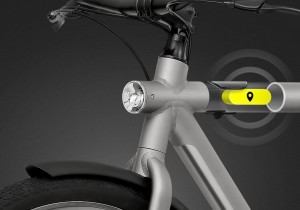 The VanMoof Electrified S  is an motorized bike that can be controlled, locked and monitored via your Smart phone. This smooth, elegant,silent ride running on a 420wh battery powering a 250W motor,  can get you up to 32 km/h and 50km distance (full power) or 120km on economy mode.
Available in grey and black the VanMoof Electrified S SmartBike comes with sleek high tech features including the ability to adjust your power, the Philips LED lighting system and anti-theft and tracking via Bluetooth and GSM. VanMoof also provides the user a touchscreen but into the top tube that provides the rider with information such as speed, battery life and distance.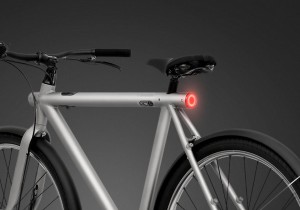 Using this Smartbike is simple. Initially when turn on the VanMoof app, you will be guided through the setup process where you register your bike, and pair the SmartBike with your smartphone. Afterwards the VanMoof app will automatically connect to your SmartBike whenever you are within its Bluetooth range. And should your Electrified S SmartBike be stolen Vanmoof provides you the ability to track where your bike is.
Two wheels powered and secured by cool Tech. What else could you ask for?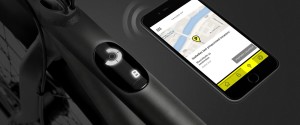 Features and Specifications
Height: 170 – 210 cm
Wheel size: 28" wheels
Weight: 18.4 kg
Material: Anodized aluminum frame
Motor

Motor: 250 – 350w front-wheel hub
Speed: Top speed of 32 km/h (USA) / 25km/h (EU)
Range: 50km (full power mode) to 120km (economy mode)

Colors: Black, Grey
Connectivity: Bluetooth LE
Power:

Batteries: 420wh battery integrated
Charger: 36V, 2A. charger, 310 cm
Charging: 6 hours charging time from empty to full
Power Levels: 4 different power levels controlled by the bike display or app
Features: Keyless unlock, Integrated high-power LED lighting, High puncture-protection tires

Security: Anti-theft tracking using Bluetooth and GSM
App:

Free Electrified S Smartphone app
Compatible with all iOS 9.3 or higher and Android 5.0 (Lollipop) or higher devices that support BLE 4.1
Adjust your power, lighting levels and lock/unlock all from your smartphone.
For more information or to acquire the: VanMoof Electrified S SmartBike
About VanMoof
VanMoof was founded by two Dutch brothers who had disruption in their blood, invention in their DNA, and industrial design expertise in their pockets