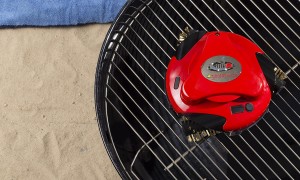 With the smells of the summer BBQ season high into gear, here is a pretty cool smart home gadget that will help you cook up a hot Father's day.
Since the earliest periods of time, man has always prided himself on hunting and cooking.  Homo erectus, the homonid just before Neanderthal man, after discovering fire around one million years ago first tasted cooked meat in the fire pit.  In 2007 Israeli scientists at University of Haifa uncovered evidence that early humans living in the area around Carmel, about 200,000 years ago were serious about barbecue.  The unfortunate news for our ancestors is that they had not discovered the tool to help them clean up afterwards.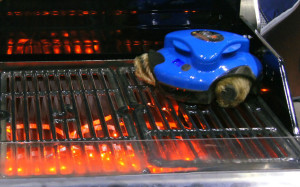 Our friends at Grillbot have created something that  would have helped Fred Flintstone clean up after chewing on barbecued T-Rex. Grillbot is a handy dandy BBQ gadget that will allow you to enjoy your BBQ and take the cleaning off your plate. This iRobot of the grill cleans up any mess by simply putting the Grillbot on the BBQ and pressing a button. The high tech yet sophisticated computer directs the robot back and forth over your grill with three powerful motors. The three spinning brass wire brushes safely clean your grates and can easily be removed and thrown into the dishwasher afterwards. The inbuilt LCD alarm auto enables the user to shut off the grill cleaning robot when the job has been completed (about 10-20 minutes). Available in four distinct colors to match with your BBQ.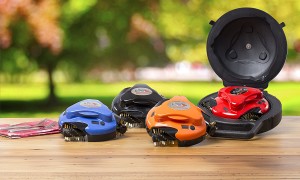 So this year, don't take a chance on what gift your going to give your dad.
Features and Specifications
Dimensions L x W x H : 3.27 x 8.66 x 8.35 in
Weight: 3.5 pounds
Colors: Black, Red, Blue, Orange
Connectivity: Push-button operation
Batteries: Rechargeable Lithium Ion Polymer Battery
Battery Recharge: Comes with with AC adapter
Features: Built-in LCD alarm & timer
Brushes: Replaceable dishwasher safe Wire Brushes
For more information or to acquire the: Grillbot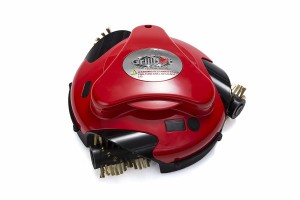 About Grillbot
Our mission is to enrich your life, by simplifying it. We believe by taking the grunt work out of cleaning your grill, it will leave you with more time to enjoy your friends, family, and the party!