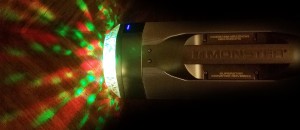 Crank up your Summer funtertainment with a speaker that will have your tunes sounding and looking great!
The Monster Superstar RaveBox will deliver that full stereo sound across your backyard patio or pool. Looking to resurrect the Boombox genre in your backyard, our friends at Monster have introduced a 16+ pound of ear thumping, jaw dropping and shoulder popping RaveBox. At first glance the Monster Superstar RaveBox looks and feels like a retro-blaster boombox fro back in the day. However the sound delivered by this device is anything but retro. The Bi-Directional Driver Design with full range drivers in angled 360 degree orientation delivers unsurpassed sound performance. Combined with the kaleidoscope sound synchronized lights this device will draw a crowd and the party to your house.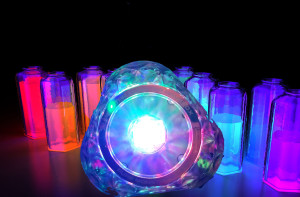 Whether utilizing the magic of Bluetooth or NFC, or traditional Aux port you can connect or synch to the Monster Superstar RaveBox and play from your mobile device from up to 30 feet (Bluetooth range) away. What I love about this device are that this device is truly rugged. Waterproof and splash proof, don't worry about the occasional spill from your pool. 12 hours of continuous use will ensure that your party finishes long before the battery on the Monster Superstar RaveBox.
The Rebirth of the Big BoomBox Zinger is here in the Monster Superstar RaveBox.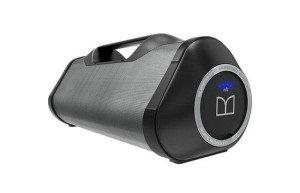 Features and Specifications
Dimensions L x W x H : 8in x 19.75in x 8 1/16
Weight: 16.8lbs
Connectivity: Bluetooth, NFC, USB, 1/8" Aux-In, Microphone Input
Batteries: Rechargeable Lithium ion Battery for Up to 12 Hours of Continuous Listening
Features: Waterproof and Splash-proof
Indoor and Outdoor EQ Modes
Synchronized kaleidoscopic lights
For more information or to acquire the: Monster Superstar RaveBox
About Monster Cable Products
Monster Cable Products, Inc. was founded in 1979 by Noel Lee®, who was a laser-fusion design engineer™ at Lawrence-Livermore Laboratory™. From this discovery, he developed as well as an audiophile and professional drummer. Lee® discovered that wires of different constructions produced varying degrees of audio performance high performance speaker cable, named it Monster Cable, and literally created an industry.