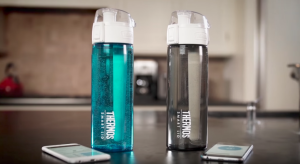 Many us have heard the water mantra '8 by 8', that we need to drink eight 8-ounce glasses of water per day. The origins of this misnomer date back to 1945. Although there is no definitive answer for the daily amount of water a person should drink each day, what is certain is that with this extremely hot summer, one needs to remember to drink plenty of water to prevent dehydration.
Our friends at Thermos are aware that drinking water is important, and that water consumption varies based on several factors including sex, weight and exercise. This is why they created the Thermos® Connected Hydration Bottle with Smart Lid. Customizable to your physiological factors, this device leverages #ioT enabled #Smart technology to track your water intake. It also keeps an eye on the current temperature of your bottle and water, ensuring that you drink is indeed cool.
Leveraging the magic of Bluetooth connectivity working in partnership with your smart phone the Thermos® Connected Hydration Bottle can monitor consumption and with the aid of gentle notifications can remind you of the water intake progress throughout the day.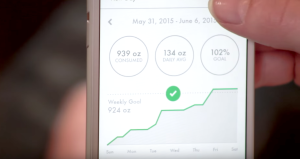 We all know that athletes, or anyone who works outside during the hottest summer days may require more fluids than generally recommended. The activity dashboard on the Thermos® Connected Hydration Bottle adjusts the daily intake requirements based on increase in exercise and temperature. The Thermos® Connected Hydration Bottle with Smart Lid is powered by a rechargeable Li-ion battery which works up to 12 days (before needing a recharge). Available in two stylish colors this is a great device that seamlessly works both in the gym and in the office.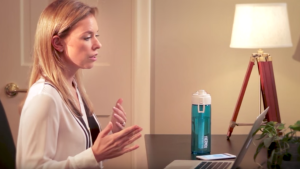 Features and Specifications
Dimensions L x W x H : 3.1" x 3.1" x 10.6"
Capacity: 24 oz
Materials: BPA-free, impact-resistant and durable Eastman Tritan™ copolyester material
Colors: Teal and Smoke
Connectivity: Bluetooth® Smart product
Distance: Up to 75' wireless range
Power

Batteries: Li-ion Power Battery
Battery Life: Up to a 12 day
Recharging: Micro USB socket for charging

App:

Thermos Smart Lid app
O.S. Compatibility: iOS 7 or later
Features:

Daily Hydration Goal
Activity Dashboard
Monitor your Progress
Custom Reminders
Fitbit integration
Social (Facebook, Twitter, Pinterest, Instagram) Media Integration
For more information or to acquire the: Thermos® Connected Hydration Bottle with Smart Lid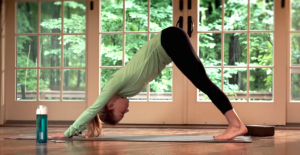 About Thermos
Founded in 1904, Thermos L.L.C. is the leading manufacturer worldwide of insulated food and beverage containers, children's lunch kits and other innovative consumer products.