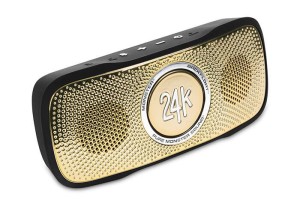 Unofficially summer kicked off this week with the July 4th celebrations. Nothing is better than chilling poolside with some hot fresh Tech.
Swimming in silence is so old school, so why not open up a can of treb mid and base unveiling the latest tunes with Pool side Speakers by Monster. The Monster SuperStar BackFloat Bluetooth Speaker is waterproof, shockproof and if accidentally dropped will float in your pool.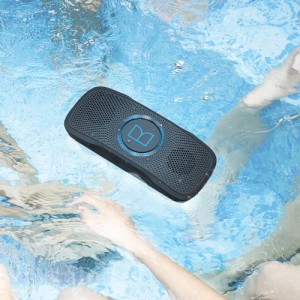 The Monster SuperStar BackFloat Bluetooth Speaker has two symmetrically-placed front full-range drivers to help deliver that clear and distinct sound level. The Bass radiators deliver a well defined, intelligible, dynamic sound punch. Combined this speaker will deliver a rich, immersive room or pool filling sound.
The built in mic with advance noise cancellation on the a Monster SuperStar BackFloat Bluetooth Speaker will ensure that even when your floating, you can answer that must have phone call. The rechargeable Lithium Ion battery provides party goers with an acceptable 7 hours of playtime.
A perfect blend of Monster premium sound and portable rugged high tech design which makes this speaker ideal for your Active Lifestyles.

Unleash the Monster party in your pool this summer with this Monster of a Bluetooth Speaker.
Features and Specifications
Dimensions: 7.25in L x 3.25in W x 1.57in D
Weight: 0.5 lbs
Colors: Neon Green, Neon Blue, 24K (Gold)
Connectivity: 3.5mm Aux line, Bluetooth
Wireless Range: 3 feet, 10 meter wireless range
Batteries:

Rechargeable Lithium Ion battery
Charges via USB cable (included)
Battery Life: 7 hours of playback

Features:

Floats in water
Waterproof (IP6 rating)
Shockproof
For more information or to acquire the: Monster SuperStar BackFloat Waterproof Bluetooth Speaker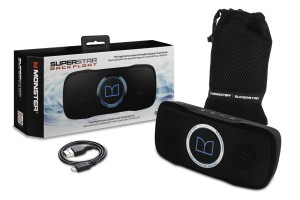 About Monster
Monster Cable Products, Inc. was founded in 1979 by Noel Lee®, who was a laser-fusion design engineer™ at Lawrence-Livermore Laboratory™. Monster is now the world's leading manufacturer of high performance cables that connect audio/video components for home, car and professional use as well as computers and computer games.