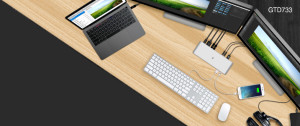 Many of you remember the Intel announcement in May of the integration of Thunderbolt 3 into future Intel CPUs and  releasing the Thunderbolt protocol specification to the industry in 2018.  At that time Intel's VP, Chris Walker indicated that,
"Intel's vision for Thunderbolt was not just to make a faster computer port, but a simpler and more versatile port available to everyone,".
Intel's dream of making Thunderbolt the standard took a leap forward as IOGEAR announced today the availability of the new Thunderbolt 3 Docking Station. With the increased usage of 4K displays, hard drives and SSD (solid state drives), the IOGEAR product revelation has very large implications for consumers.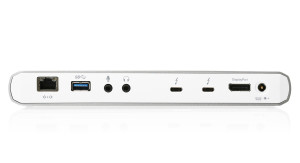 The IOGEAR Thunderbolt 3 ports allow users to transfer multiple types of data at a faster than legacy USB 3.0 with thunderous (pun) transfer speeds of 40 Gbps. There are a few key features that you should notice with the IOGEAR Thunderbolt 3 Quantum Docking Station including:
Dual 4K or 5K Resolution – Connect two 4K displays with nearly 16 million more pixels than an HDTV or connect the latest generation 5K display to enjoy the astonishing resolution, contrast and color depth of photos, videos and applications.
High-Speed Data Transfers – Data transfer speeds up to 40Gbps is eight times faster than USB 3.0, allowing the transfer of a full 4K movie in under 30 seconds. Ease-of-use and unprecedented speed makes it an ideal connectivity solution for high-performance workstations.
Connect Multiple Devices via a Single Port – Provides 5K or dual 4K video, audio, Gigabit Ethernet, USB-C and USB-A ports to expand the capacity and capability of a laptop computer using a single Thunderbolt 3 cable. A Thunderbolt 3 expansion port enables users to daisy chain up to five additional Thunderbolt 3 devices such as storage devices or an external GPU video box.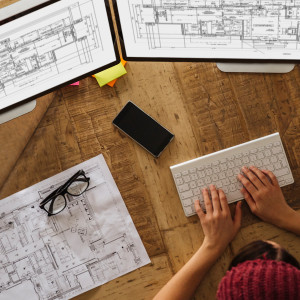 The IOGEAR Thunderbolt 3 Quantum Docking Station also includes two USB-A (USB 3.1 Gen 1) ports, one USB-C (USB 3.1 Gen 1) port, audio input and output jacks, a Gigabit Ethernet port and a charging (USB-C) (Up to 15W) port. The IOGEAR Thunderbolt 3 Quantum Docking Station will work with Thunderbolt 3 USB-C Enabled computers including MacBook Pro or Windows 10 or later compatible devices.
David Lin, Product Manager at IOGEAR indicated "Our new Thunderbolt 3 docking station allows users to instantly turn the laptop into a powerful workstation by simply connecting a single Thunderbolt 3 cable."  A great product for home, small enough to take with you on the road, this device will pretty much meet your requirements.
The technological paradigm of Thunderbolt 3 dominating computer ports has taken a giant leap forward with the IOGEAR announcement today.
Features and Specifications
Dimensions HxDxL : 1.1″ (2.8cm), 3.13″ (8cm), 8.75″ (22.2cm)
Weight: 1 lb (0.45kgs)
Transfer Speed: up to 40Gbps
Daisy Chain: Up to 5 additional Thunderbolt 3 devices
Docking Interface: Thunderbolt 3 (40 Gbps)
Video Sources: connect a 5K resolution or dual 4K resolutions

DisplayPort (up to 4096×2160 60Hz)
Thunderbolt 3 (up to 4096×2160 60Hz)

Connectivity:
Charging (USB-C): Up to 15W
Expansion Ports:

Thunderbolt 3 x 1, USB 3.1 Gen1 x 3 (2 USB-A, 1 USB-C), Gigabit Ethernet Port

3.5mm audio input and output
Gigabit Ethernet Port
Compatibility: Thunderbolt 3 USB-C Enabled computers

Mac: Mac OSX Sierra 10.12 or later, Thunderbolt™ 3 port
PC: Windows 10 or later, Thunderbolt™ 3 port
About IOGEAR
OGEAR, an ATEN Technology Company headquartered in Irvine, CA, manufactures innovative information technology products for consumers and small- to medium-sized businesses that are designed to help integrate technologies in everyday life, share resources and decrease clutter at home, at work and on-the-go.

IOGEAR provides consumers, small office/home office (SOHO) users, and small and medium sized business (SMB) customers with attractive, reliable, high-performance products and solutions that help them connect their devices to improve productivity and efficiency. The company offers a broad range of solutions including: KVM, A/V & Digital Home, Computer Accessories, Networking, Mobility and Gaming.