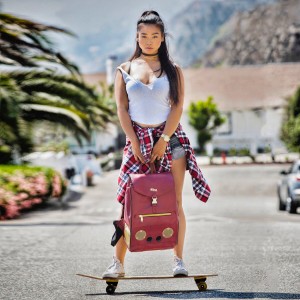 Finding Elegant Electronic Gadgets is as easy as saying WizPak™.
One of misnomers of technology is that it is just functional and boring. Anyone who things tech types don't know anything about fashion should talk with our friends at WizPak™. Nothing spells Gadget gorgeous more than WizPak™ Riri. A mix of High Tech sound meets Luxurious fashion. sprinkled with a little Bluetooth Connectivity results in the WizPak™ smart wearable Backpack.
What makes this device different than you standard backpack is quite apparent at first glance. Made out of Chic Water Resistant Canvas & Leather, this backpack features a 40w 2.1 stereo speaker system showcasing an all immersing 3d surround sound technology. You can connect wirelessly via Bluetooth to the WizPak™ or via a traditional 3.5mm audio cable. With the optional WizPak™ Aux Cables you can connect up to 10 WizPak™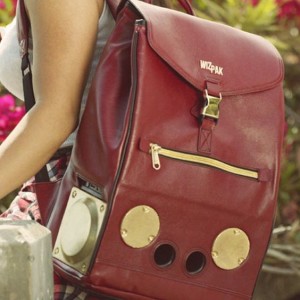 The WizPak™ Riri comes with a built-in 6000mAh battery which is great for at least 10 continuous hours of listening to music. The WizPak™ features 3 usb ports to charge smart devices. The device automatically shuts off after 10 minutes of non use. You can check your battery status by double pressing the SOS button located on the WizPak™ Riri'sstrap.
One of the best features of the WizPak™ Riri is its security alert functionality. One would simply press the in built SOS Button for 3 seconds. The Panic button would then emit a loud distress sound. Also the indicator lights would start to alternate flashing in red and blue. To disable the panic button, simply press the SOS Panic Button again.
Any doubts about how well the worlds of fashion and technology merge can be thrown aside with the luxurious Gucci like Gadget WizPak™ Riri .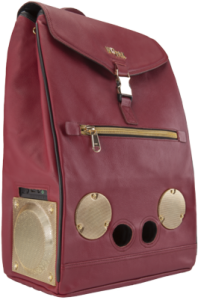 Features and Specifications
Dimensions: 8.5 in × 13 in × 16.7 in
Materials:

Water Resistant Canvas & Leather Exterior

Colors: Gold, Matte Black
Connectivity: Bluetooth, 3.5mm audio cable to your WizPak
Batteries:

Battery power up to 15 hours of playback
3 usb ports for mobile charging

Features:

40w 2.1 stereo speaker system
3d surround sound technology
Water Resistant Canvas & Leather Exterior
WizPak™ Panic Button SOS emergency alert for distress situations
For more information or to acquire the: WizPak™ Riri