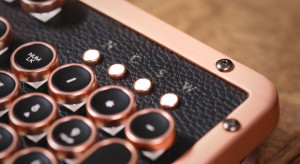 Amazingly Retro Gadgets are very popular. Whether it be Nintendo or Records or Telephone Handset Receiver Cords with cables good old technology is in vogue. Our friends at Azio have developed a Luxury Keyboard with the look and feel of a traditional typewriter.
Azio perfected every design detail. The finish of the Azio Luxury Vintage Keyboard has a zinc alloy frame, genuine leather surface, spherical round key caps, making this device a perfect match, and the finishing touch to a well thought-out technology accentuator. As with a typewriter the key travel and spacing are perfectly engineered for responsive typing. The Azio Luxury Vintage Keyboard comes in a wired version for windows and a wireless version for both windows and mac,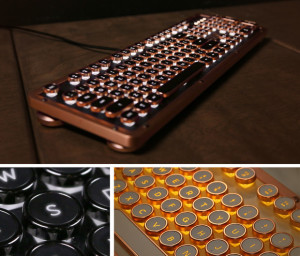 Available now on Indiegogo, the Azio Luxury Vintage Keyboard will be available for backers in October 2017.
Features and Specifications: Windows layout (USB wired)
Models:

Wired Version: Windows layout (USB wired)
Wireless Version: Windows and Mac layout – Bluetooth+USB Hybrid

Dimensions L x W x H : 5.8" x 17.91" x 1.58"
Weight: 3.5 lbs
Colors: Onyx / Posh / Artisan
Materials: Forged with zinc aluminum alloy, then polished and plated into a beautiful black chrome (or satin copper finish)
Batteries: N/A
Features: Backlight LED, Hotkeys
Status: seeking funding on Indiegogo, ETA for delivery October 2017
For more information or to acquire the: Azio Luxury Vintage Keyboard
About the AZIO Team
Azio Corp. is a manufacturer dedicated to providing innovative tech gear to make everyday life more engaging and fun. We believe that design has the power to alter not only perceptions, but also emotions.