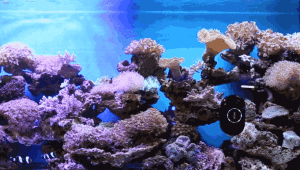 Sharknado is an extremely popular cult classic in which humongous flying sharks team up with nature's Biggest, Nastious hurricanes to cause chaos for all humans on the sea, land and air. Although not as bad, having recently being asked to fish sit for a few weeks, I can attest that fish can get a little agitated should you forget to clean or feed them during the scheduled periods. Perhaps for Sharknado the Final Conflict should be to challenge those terrifying creatures with the latest in Robot and drone technology.
I am not sure if they are followers of Sharknado, but my friends at MOAI Inc have developed a high tech robot solution to my small fish cleaning problem. Available on Kickstarter, the MOAI Robotic aquarium cleaner enables fish owners and pet sitters alike to remotely connect and clean their aquarium.  MOAI utilizes a magnetic cleaning solution that can be used on can be used on glass or acrylic tanks up to 8-14mm thickness. The two wonderful things about this device is that in order to remove Algae or any other material, you can clean the tank without ever getting your hands wet and you can do it remotely.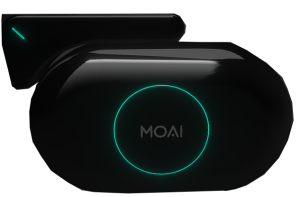 Similar to the iRobot for fish, the MOAI Robot disengages from its docking station and leverages visual localization to ensure efficient aquarium coverage. Upon completion (or when it needs to be recharge) the MOAI Robot will go back to its home base. One thing to note is that the MOAI can not turn around the corners of your tank. If you want to auto-clean more than the front of your tank, you should purchase another MOAI.
You can connect via the magic of WiFi to MOAI from your Android or iOS mobile device and remotely clean your fish tank. You can also pre-schedule your cleaning.  MOAI is designed to work with both freshwater and marine water.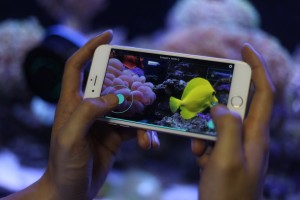 In addition to being a high tech Robot aquarium cleaner, MOAI also has a HD wide-angle lens which allows you to remotely watch your fish and the aquascape from 360° angles. You can bookmark your favorite position in the tank and at any time ask MOAI to position the camera there.
MOAI is available on Kickstarter for purchase and is expected to be delivered in Q2 of 2018.
Features and Specifications
Dimensions L x W: 140mm x 85mm
Connectivity: WiFi
Camera: Wide Angle Lens
Video Features:

360° View, Time Lapse, HD, Snapshot,

Features:

Positioning
Smart Docking
Real-time Navigation
Auto-Cruise
Schedule Cleaning

Thickness: MOAI – 8-14mm aquarium glass, MOAI Plus – 15-20mm
Operating Range: 200cm
Compatibility: Fresh and Saltwater Aquariums
App:

MOAI mobile app,
Compatible with Android and iOS

Status: Seeking funding on Kickstarter, ETA for delivery May 2018
For more information or to acquire the: MOAI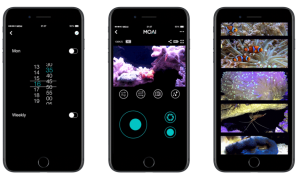 About MOAI Inc
We are a team of designers and engineers building smart tool that bring less worry and more fun to aquarium hobbyists world wide