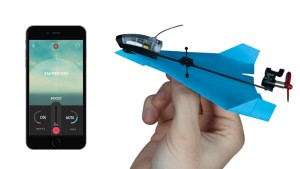 Fidget spinners may have been the popular (irritating) toy of the summer. But beyond the (boring) spinning on the user's finger what exactly did it do?
Available on Kickstarter  today is a toy that will leave those nasty fidget spinners in their dust. The PowerUp Dart is a next generation remote controlled paper airplane. Before you ask what's so special about it, let me elaborate. Unlike the traditional paper plane your grandpa used to fold, this plane can fly in speeds up to 25 miles per hour, can take off, land and can do loops, spins, barrel rolls, scissors lazy 8s and many other exhilarating (and somewhat hair raising, if done indoors) feats.
Unlike those pesky drones, the PowerUp Dart does not require registration with the FAA and is relatively indestructible. The PowerUp Dart requires only 25 minutes of quick charge and can fly for 10 minutes continuously.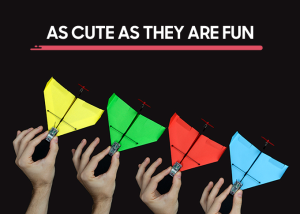 Assembly of this high tech plane is quite easy. Once you have followed the folding directions, insert the front of the airplane's keel (the nose of the airplane) into the clips of the Smart Module, making sure that the keel goes all the way into the clips. Turn on the Smart Module, the indicator light starts to flash. You are ready to fly. The PowerUp Dart connects via Bluetooth Low Energy to your iOS or Android smart phone. The PowerUp smartphone App enables you to communicate with the Smart Module and control your airplane.
Once you've had a chance to test fly the PowerUp Dart you never will want to go back to that fidget spinner again.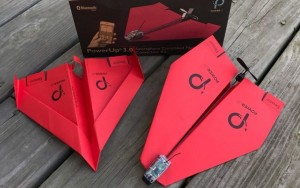 Features and Specifications
Weight: 11.5 g
Materials: PaperPlane templates, Wheels for take off and landing, propellers, Cross bar, etc.
Speed: Max Speed 25 mph
Flight Time: 10 min on a 25 min charge
Input: 5V standard micro USB
Range: Over 200 feet / 60 meters
Connectivity: Smart Bluetooth Low Energy (BLE) 4.0
App: PowerUp App, Compatible with iOS and Android
Status: Seeking funding on Kickstarter, ETA for shipping December 2017
For more information or to acquire the: POWERUP DART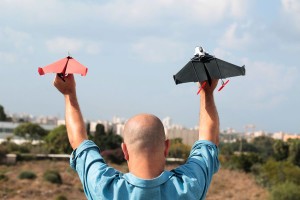 About POWERUP Toys
POWERUP Toys lets consumers of all ages expand their sense of play and experimentation by adding power to familiar paper airplanes. POWERUP Toys brings homemade paper toys into the future by adding next generation mobile controls, propulsion and tools to take imagination to new heights. Experience the joy of making your ideas take flight in just a few minutes!