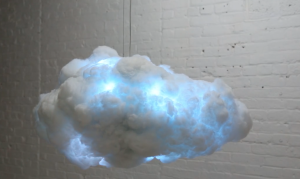 Long gone are the days where the paths of Fashion and Technology are mutually exclusive. #FashionTech has become a highly progressive, harmonious,  partnership. Mainstream Technology companies such as Apple and LG have intrinsically linked the elegance and sophistication of design with the bleeding edge technology components.
The union of Art, Design and Technology are stylishly showcased by the Richard Clarkson Studio's Smart Cloud. In the last few years this Brooklyn based studio has been an immersive engine of fashion and luxurious technology, positioning itself with its uniquely elegant and disruptive gadgets and devices.
Each Smart Cloud is a customised hypoallergenic interactive LED lamp and Bluetooth speaker. Unlike the widget based off the shelf speaker, the Smart Cloud looks and sounds like your typical Stratocumulus (or maybe it is Cirrus) cloud. Brilliant white, light, fluffy and dense the Smart Cloud hovers gently in the room only to dramatically change into a dark gray cloud, thick enough to produce flashes of light and thunder sounds.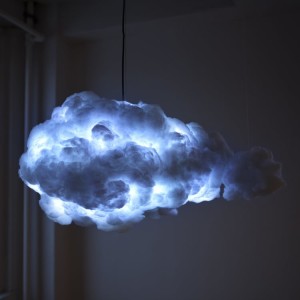 In addition to impressing your friends with its Sculpturous design, this Smart Cloud is a motion detector sensor that flashes to sudden movement and is a wonderfully elegant Bluetooth speaker that pulses light to the beat of external music. The Smart Cloud is powered by a Lithium Ion 6600mAh Battery which can be recharged through USB (cord included).
It is wonderful to see the Richard Clarkson Studio break ground with such uniquely disruptive #FashionTech.  Hopefully the innovative path they have taken in #FashionTech will be extensively travelled by other Technology developers.
Features and Specifications
Dimensions: 24 x 15 x 14″ (each cloud is hand-made and unique in size so exact dimensions may vary)
Weight: 14lbs (6kg)
Materials: Hypoallergenic polyester fiber
Connectivity: Bluetooth
Batteries:

Embedded rechargeable Lithium Ion 6600mAh Battery
USB charging cord (included)
Input voltage 110-240v at 50-60Hz

Features:

Interactive lamp / RGB LEDs
Embedded Thunder sounds, Cloud flashes to the beat of external music
Integrated 2.1 bluetooth speaker system.
Remote included
Motion detection
For more information or to acquire the: Smart Cloud by Richard Clarkson Studio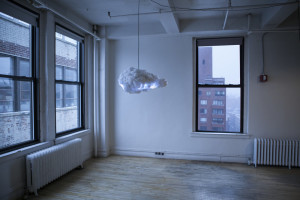 About Richard Clarkson Studio
Richard Clarkson Studio is a Brooklyn based art and design laboratory. We create objects, products and installations that are, minimal in style, honest in material, elegant in simplicity and sculptural to the core