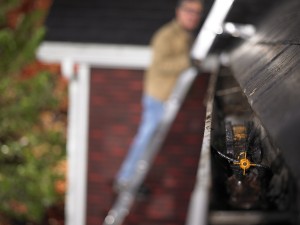 With the change in temperature and the onset of Autumn comes the accompanying indoor and outdoor activities including raking, preparing your garden for winter and the every annoying gutter cleaning. In addition to removing the messy, wet and dirty garden waste from the gutters, there is the risk associated with going up and down the ladder. According to stats published by the U.S.  Department of Labor, ladder related injuries accounted for almost 27% of injuries in 2011. A shocking 97.3% occurred in non-occupational settings, such as homes. Gutter cleaning seems to increase the likelihood of injury due to the constant climbing and moving of the ladder.
If you are like me and are not looking to join the thousands of people being injured than perhaps you would consider an high tech alternative. Known for robotic excellence the iRobot Looj 330® is a small device that fits snugly into your gutter and runs amok over those nasty leaves.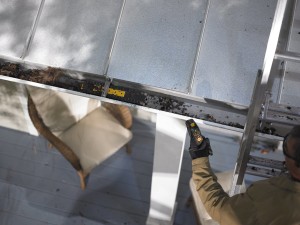 The iRobot Looj is powered by a 2600mAh Lithium Ion Battery and connects wirelessly to a controller. The Looj simply can be sent forward or backward down the gutter while the 500 RPM motor powers auger in removing and ejecting the debris from the gutter. iRobot provides the consumer with two different auger sizes, depending on the type of debris that is confronted.
In addition to the avoidance of injuries and the elimination of one item on my to do list I love that the iRobot Looj works in up to 8″ of water (with the battery door properly sealed). This is great for when you use the iRobot in messy fall and spring conditions.
Although the iRobot can be used with the wireless controller, users can also manually operate the device with the charging handle. So this fall, instead of falling off the roof, fall into a high tech solution that will clean up practically any mess in your gutters.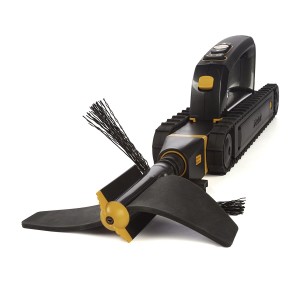 Features and Specifications
Dimensions: 15.63″L x 2.93″W x 1.99″H
Weight: 2.77 lbs.
Colors: Black and Orange
Connectivity: wireless controller; Communication range of up to 50
Battery: 7.2v Lithium-ion battery (2600 mAh)
Motor: 500 RPM, 4-Stage Auger And Scraper
Features: waterproof in up to 8″ of water with the battery door properly sealed
For more information or to acquire the: iRobot Looj 330®

About iRobot
iRobot, the leading global consumer robot company, designs and builds robots that empower people to do more both inside and outside of the home.