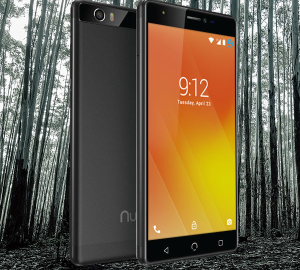 Apple had created a stir recently with the release of the iPhone X.  However for most consumers, laying down $1000 USD on a phone may not be an option.  However to address this consumer concern, NUU Mobile has released a line of consumer and cost affordable smartphones including the NUU Mobile M3.
If your looking for an Android phone to rival the iPhone X in terms of cost, well this is not the phone for you. Right out of the gate one thing has to be addressed; the NUU Mobile M3 is not a high end luxury mobile device. While its large and spacious 5.5" screen and pretty all metal construction give off a very high end vibe, this $280 CAD device is spec'ed more towards the mid to lower end range of phones. With that being said, the NUU Mobile M3 is not by any stretch of the imagination an inferior quality device. NUU Mobile has once again released a  premium looking and feeling device that will be relatively light on consumer's wallets.
When looking for a phone to use, the most important thing to me is how the phone performs. I don't ever want to feel like I'm being held back, or limited by my phone. I don't want to be caught waiting for my camera to load up when i see a cool photo opportunity, nor do I want apps crashing, or my phone dying throughout the day. This however, all means nothing if the phone doesn't feel right to me. If the phone feels cheap in my hand, the operating system feels clunky or bloated, or the buttons are in unintuitive places, then all the performance in the world wouldn't convince me to switch devices. With that aside, let's get into this review.
The NUU Mobile M3 phone itself – basic specs and layout. Coming in at just under 6 inches tall, just over 3 inches across, and just about a third of an inch thick, this phone is not a small one by any definition. Without any cases on, the NUU M3 is just marginally smaller than my everyday phone, a Samsung Galaxy Note 4. The NUU M3 to me however, doesn't even remotely feel big in my admittedly smaller hands. While this may be a result of being used to the larger Note 4, the thin design, the rounded edges and the all metal construction give the M3 a very premium feel, which makes it a pleasure to hold.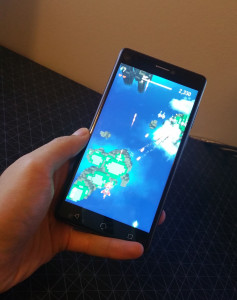 Moving on to the screen, coming in at 5.5", the 720p screen is frankly quite good. With no visible pixelation to me, this screen does well with 720p HD videos on youtube, as well as some time killer games and apps. Upon startup on the NUU Mobile M3 screen you are greeted with a stock version of Android's software; 7.0 Nougat, which is at the time of review, the most up to date version of Android. There are no bells and whistles on this version, which in my opinion is a good thing, as there is no bloatware to negatively affect performance, while still maintaining the snappy feel of an unmodified OS.
This snappy feel, can also be attributed to the 1.3GHz, Quad core Processor, as well as the 2GB of RAM found under the hood of the M3. While 1.3GHz may not be much next to the likes of current Flagship model phones, or even something like my Note 4, when it comes to everyday use you won't notice any performance issues. However, when playing 720p videos on Youtube, to me there were noticeable framerate issues. Again, this may be a result of my bias towards my current phone from using it for as long as I have, and depending on the person they may either not notice the lag as much as me, or it may be something they can live with. This is by no means a major con, but it is something worth mentioning. If however, serious performance is something you are looking for, on 3DMark Benchmarks – a high quality graphic performance benchmark, this phone certainly suffers due to the lower end, but more power conscious processor. This score managed a score of 99 on Slingshot Extreme – the highest quality test currently available, which pales in comparison to 1257 score that the Note 4 received. These numbers need to be taken with a grain of salt and reason before making any sort of judgement on them. The NUU M3 is currently priced at $280CAD (factory unlocked), while the Note 4 currently sits at $320CAD (also factory unlocked). Everyday, or casual users will not ever push the NUU M3 to this extent, and hardcore users who are looking to push a phone to its limit certainly should be looking elsewhere for that kind of performance.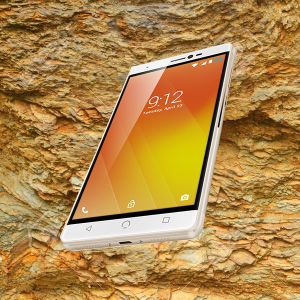 Moving along, what is perhaps the biggest selling point of the NUU Mobile M3, is its Dual-SIM capability. Allowing for the use of two different SIM cards at the same time, this feature is what perhaps best allows the M3 to be targeted at frequent travelers who might be looking for a phone on the cheaper side, that still allows for convenience, decent performance and freedom to choose their own network. Ironically, the M3 is not compatible with Canada's Freedom Mobile Network (UMTS) so unfortunately the call quality was not able to be tested. As the M3 is only compatible with LTE, GSM, and CDMA networks, the fact that UMTS is not supported may be a huge drawback, but as most countries' biggest providers offer networks which are on supported networks types, this is of little concern to them.
Another challenge of this phone is its Camera quality. With an 8MP rear camera, with all the usual add-ons like Autofocus, flash, panorama, and burst photo capabilities, the pictures it takes are acceptable, but for anyone looking for a solid picture taking phone, I would suggest looking elsewhere. Below are two photos taken of the same scene, the first one is from my Note 4 – from its 16MP camera, and the second one is from the M3 – with its 8MP camera. Both photos were taken with autofocus, and nothing else.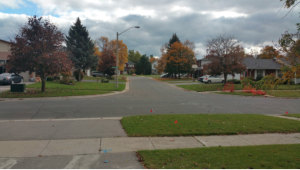 Photo taken with Samsung Note 4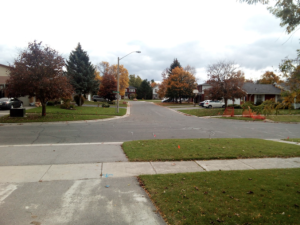 Photo taken with NUU Mobile M3
As you can see, the sky in the second picture is washed out, the details are clearly less visible, and the colours are less vibrant. In addition, straight out of the box, the default aspect ratio for pictures on the M3 is 4:3, which frankly is quite confusing. Compare that to the 16:9 aspect ratio of the Note 4's pictures, and they come across as cramped and small, especially on the big display of the M3.
Getting back to positive points on the NUU Mobile M3, the 3200 mAH battery gives you plenty of juice to get through the day. Left on idle without any use aside from to check the time once and awhile, the NUU  M3 lasted nearly 6 days without a charge, however with heavy use, expect to have to recharge once or twice a day, depending on how frequently you use it, and what you use it for. Unfortunately, due to the solid metal construction, the battery is not removable by the user, and if you have any issues, catastrophic or not, your only options are either to take it to a professional repair shop, or to send it back to the manufacturer if you wish to repair it.
Another great feature of the NUU Mobile M3 is its storage capability. With 16GB built in, and the option to add your own 64GB microSD, there is plenty of room for music, photos, apps, and anything else you might want to store in it.
The  NUU Mobile M3 also includes a 3.5mm audio jack – which are slowly disappearing on phones nowadays, and may be a selling point to some – as well as an external speaker. As far as external speakers on phones go, there's nothing special about the NUU  M3's but it is by no means bad. The NUU  M3 also comes with Bluetooth 4.0 as well as an FM Radio, allowing for some flexibility there. Unfortunately that is as far as it goes, as the M3 does not the additional features like NFC, a gyroscope, accelerometer, etc, that are commonly found on mid-range devices nowadays.
Finally, the M3 comes straight out of the box with a bundle of great and useful accessories. Included in the box was a plastic screen protector, a small cleaning cloth, headphones with a built in microphone, a micro USB (B) cable, a wall charger, a pin to open the SIM/microSD card slot, as well as a manual and a quick start guide.
In summary, the NUU Moble M3 Smartphone to me would best be described as an affordable smart targeted for consumers who are looking for a device that will get them connected but not burn a hole in their pockets. It's a very premium feeling and looking device with the latest Android OS, but it's performance in several areas; namely its camera, processor and additional features that just aren't included leave quite a bit to be desired. If I had to grade the NUU Moble M3, I would give it a B. Overall it's a good mobile phone, with plenty of great features. For the price point, I'd say it's a pretty good deal if you're looking for something premium feeling, portable and light on the wallet, but don't expect it to rival the performance of most mid-range or flagship smartphones nowadays.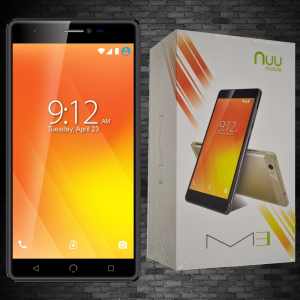 Features and Specifications
Dimensions H x W x D: 5.97 x 3.05 x 0.31 (in)
Operating System: Android™ 7.0 (Nougat)®
Processor: MediaTek MTK6737, 1.3 GHz Quad-Core
Colors: Black / Gold
Network:

LTE + GSM (Dual-Sim, Dual-Standby)
– SIM 1: 4G LTE (nano-SIM)
– SIM 2: 4G LTE (nano-SIM)
GSM: 850, 900, 1900
WCDMA: 850, 1900, 2100
LTE Bands: 2, 4, 7, 12, 17

Camera 

Rear: 8 MP – Flash – Auto Focus – Panorama – Burst – Live Photo
Front: 5 MP – Auto Focus

Video: Video Playing Format – H.264/H.263, MPEG4/2, 3GPP
Audio 0.5 W Speaker, 3.5mm Audio Jack
Battery : 3,200 mAh
Storage: Built-in storage: 16 GB,  RAM: 2 GB, Expandable with microSD™ (up to 128 GB)
Display: 5.5″ IPS Panel, 5-Point Touch Technology, HD 1280 x 720
For more information or to acquire the: NUU Mobile M3
About NUU Mobile
Since 2012, NUU Mobile has been helping people smile all across the world. From London to Hong Kong to Miami, we pursue a single goal with tireless passion and creativity.