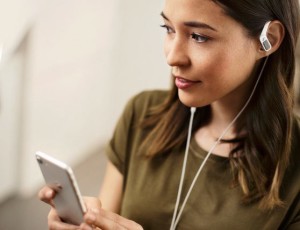 Looking to extend a fine tuned High Resolution Audio electro-dynamic experience, the Sennheiser Ambeo Smart Headset provides an extreme listening experience for Apple Audiophiles.
Take your workout, phone call or music experience to the next level with the Ambeo Smart Headset.An improved ergonomic design ensures that Sennheiser users have a comfortable fit. Each Ambeo Smart Headset comes with three sizes of ear adapter tips (small, medium, large). . The result is an optimal ergonomic design for all-day comfort.
Not only does the Sennheiser Ambeo Smart Headset deliver masterfully tuned sound the way it was meant to be heard, but it records it with clarity, breadth and balance. Each Ambeo earpieces are fitted with an external omnidirectional Microphone enabling users to create, listen and experience an immersive 360-degree sound-field. While you are capturing 360-degrees of video, the Ambeo microphone captures sound in the same "3D audio recording" sphere. The fine-tuned acoustic design delivers an exceptional listening and recording experience.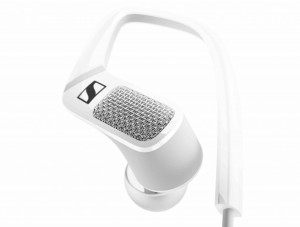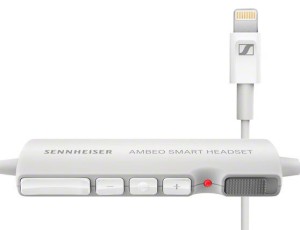 Every Ambeo Smart Headset has been designed to integrate seamlessly with your iOS devices. whether it be with the Apple MFi-certified Lightning connector, or the Ambeo Smart Headset App available on the Apple store which can control volume, mic sensitivity and other functions.
Quality Engineering, Amazingly Sophisticated Audio.  Sennheiser has unleashed its disruptive 3D Sound for Apple Audiophiles.
Features and Specifications
Cable length: 1.16m
Ear Adapter Sizes: S, M, L
Color: white/ grey
Connector: Lightning
Mic: Omnidirectional Microphones in Earpieces
Frequency response: 15-22,000 Hz
Compatibility: iPhone 7/7+, iPhone SE, iPhone 6s+/6s/6, iPhone 5s/5c/5, iPad Pro 1st/2nd generation, iPad Air/Air 2,iPad 4th/5th generation, iPad mini 4/3/2, iPod touch (6th generation)
System Requirements: iOS Version: 10.3.3 or later
App: Ambeo Smart Headset (Available on the Apple store)
For more information or to acquire the: Ambeo Smart Headset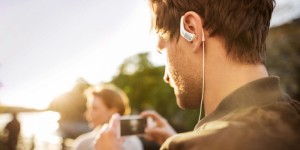 About Sennheiser
At Sennheiser we are shaping today the audio world of tomorrow – that is the ambition that we and our company live by from day to day.