Have #Wearables Missed the Mark for Women?
Wearable Technology has embarked to transform the way we look and interact with each other and with our environment. However when it comes to Women, there is empirical evidence to show that the Wearables industry have created products that  have missed the mark.  According to a 2015 Consumers and Wearables Report 71% of men surveyed have a piece of wearable tech, compared to 54% of women. There are many reasons why women are not buying into the Wearable trend.
When it comes to product development, companies focus on completing a product in time and budget.   However, what is not taken into full account is the intrinsic value of customizing a product design  for women. Take for example Smartwatches.  Accounting for 59% of wearable sales (2015) which are projected to grow to 70% in 2019.  One of the most popular Smartwatches, the Apple watch. is a technologically amazing product.  However from an aesthetic standpoint the Apple watch can only be described (with its bulky straps and large display) as gender neutral at best.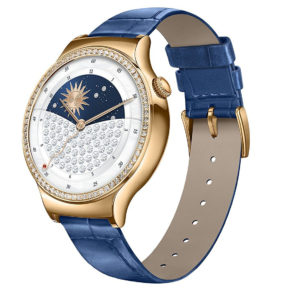 To address these gaps a few Tech vendors such as Huawei have taken a uniquely different approach to Wearables for Women. In addition to looking at the technology components, the Huawei's Smart Watch for Women  takes into consideration the stylistic look and feel. The Huawei Jewel Smartwatch has been elegantly designed with a border of 68 mm Swarovski Zirconia stones, rose gold plated case and in short is a Smartwatch that a woman would be excited to wear.
Lightweight with a thin sapphire blue wristband the Huawei Jewel Smartwatch is powered by Android wear and comes with a round 1.4-inch full circle AMOLED display.   It is compatible with both iOS and Android devices and can pair with your mobile phone via Bluetooth 4.1 BLE. The Huawei Jewel Smartwatch provides the user with notifications and alerts for calls, texts, and apps.   The Huawei Jewel Smartwatch contains a built-in speaker and microphone and comes with a a heart rate monitor and motion sensors for fitness tracking.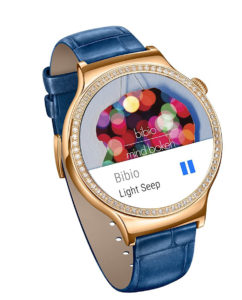 The Huawei Jewel Smartwatch has redesigned the approach to Wearables.  We hope the market takes note and takes a different approach to designing the Next Generation Of Wearables, with Women In Mind.
Features and Specifications
Dimensions: 44mm diameter, 12.45mm thick
Chipset: Qualcomm Snapdragon 400
CPU:  1.2 GHz
Memory: 512MB RAM + 4GB ROM
Display:

1.4-inch full circle AMOLED display
400×400 screen resolution, 286 ppi

Weight: 3.2 ounces
Battery:

Type: 1 Lithium ion 300mAh battery required. (included)
Life: 1.5 days battery life

Connectivity: Bluetooth 4.1 BLE, WiFi
IP Rating IP67
Sensors:

6-Axis motion sensor (Gyroscope + Accelerometer)
Heart Rate Sensor (PPG)
Barometer, Vibration Motor

O.S. Compatibility: Android 4.3+ / iOS 8.2+
For more information on  the: Huawei's Jewel Smartwatch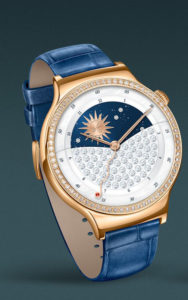 About Huawei Consumer Business Group (BG)
Huawei Consumer Business Group (BG) are dedicated to bringing the latest technology to consumers and creating extraordinary experiences for people everywhere.