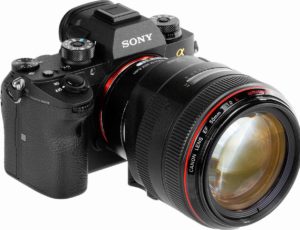 With Sony's latest mirrorless offering, the a9, both the features and the price Sony is trying to position it as an alternative to the professional crowd. Certainly Sony can compete with features against the Nikon D5 and the Canon 1DX Mk II, in fact depending on who you talk to, just based on features alone, the Sony a9 comes out ahead. The one thing Sony has neglected is to make the a9 more rugged. This can be said about all of Sony's mirrorless full frame lineup compared to Canon or Nikon's offerings.
Just by holding the Sony A9, do you really believe it would survive if you dropped it? This could be solved simply by offering a rugged case that incorporates a battery grip. The following is not specific to the Sony a9 but it is coming from general comments coming from Sony a7 series of cameras. I have read numerous stories about a number of Sony mirrorless cameras overheating. I know they have corrected most of the problems but it is not something a professional would overlook. I also know of the Sony mirrorless cameras shutting down because of extreme cold.
With the price of the Sony a9 north of $5000, I think they have priced it out of the reach of most prosumers and the camera is not rugged enough for some of the professional crowd.
Having said all this, I think the a9 should be considered a success no matter what the sales numbers end up as. Considering how far behind Sony was compared to Canon and Nikon even a few years ago, the a9 is a big success and now it is up to Canon and Nikon to respond accordingly.
Specifications:
Full model name:
Sony Alpha ILCE-A9
Resolution:
24.20 Megapixels
Sensor size:
35mm
(35.6mm x 23.8mm)
Kit Lens:
n/a
Viewfinder:
EVF / LCD
Native ISO:
100 – 51,200
Extended ISO:
50 – 204,800
Shutter:
1/32000 – 30 seconds
Dimensions:
5.0 x 3.8 x 2.5 in.
(127 x 96 x 63 mm)
Weight:
23.7 oz (673 g)
includes batteries