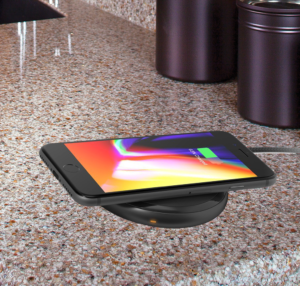 Why does my phone take forever to charge?
Whether Android or Apple unfortunately this statement is not uncommon to hear. For Apple users with the iOS 10.11 update many complained that their iPhones were sluggish, charged very slowly and in some cases didn't even show that the device was charging.
For brave consumers willing to upgrade to an iPhone 8, iPhone 8 plus or iPhone X, there is hope. A feature called "fast charging" can recharge your iPhone up to 50 percent battery in 30 minutes. The caveat is that your charging device must use an Apple USB-C to lightning cable with an Apple 29W, 61W, or 87W USB-C Power Adapter or a comparable third-part USB-C power adapter supporting USB power delivery (USB-P).
Looking to Amp up the charge to the next level, we looked at wireless alternatives for fast charging that will cut the cord. In addition to the exciting new features of the iPhone 8 and iPhone X comes the ability to charge using Qi wireless charging pads. There are a variety of chargers out there that will enable consumers to fast charge wirelessly. RAVPower has a fast wireless charger that is compatible with both the latest iPhone products and its Android competitor Samsung.
The RAVPower Fast Wireless Chargers QI + QC 3.0 Adapter has been acclaimed as one of the best wireless chargers for the iPhone by many online publications. This device supports the Qi wireless charging up to 10W(Max).  Qi from the Wireless Power Consortium (WPC) is the current  standard for wireless charging .   Qi wireless charging has been around since 2008 but only started to be adopted by Nokia in its Lumia 920 phone in 2012.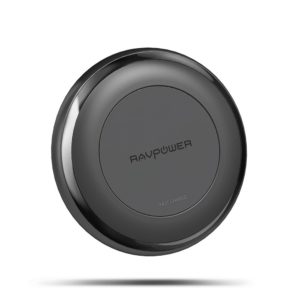 What should be noted is that the Qi wireless charging standard has an output reaching 15 watts. The iPhone only uses half of that at 7.5 watts. Although it is disappointing that it does not reach the Qi standard, 7.5W Charging is still 50% faster than its iPhone  predecessors that use  3.5W – 5W wireless chargers with a maximum 7.5W output. I am not sure If the limitation is hardware or software, but I am hoping it is more of a software issue that can be fixed in the future with an update to iOS 12 ??
To use the RAVPower Qi Fast Wireless Charger with your iPhone simply place your Qi enabled mobile device on the horizontal pad. The RAVPower Qi Fast Wireless Charger has an LED smart battery indicator that lets you know whether your phone is charging or is fully charged.
A tremendous step in the right direction, Fast charging wirelessly is the future for Mobile devices.
Features and Specifications
Dimensions: 3.5 x 3.5 x 0.6 inches
Weight: 4.8 ounces
Connector type on cable: usb
Form Factor: Horizontal Pad
Input: 5V/2A, 9V/1.8A
Output: 10W(Max);7.5W(Max) for iPhone 8 8 Plus X
Compatibility: All QI enable devices

Apple: iPhone x, iPhone 8, iPhone 8 plus
Samsung: Galaxy S8, S8 plus, S7, S7 Edge, Note 8, S 6 Edge Plus

Smart Battery Indicator
For more information or to acquire the: RAVPower iPhone 8, 8 Plus or X Fast Wireless Chargers QI + QC 3.0 Adapter
About RAVPower
Founded in 2011, RAVPower has grown to become the one-stop power charging solution for millions of customers from around the world.