Buy the ultimate Valentine's day Gizmo for your Sweetheart.
Gizmo readers, this year instead of buying chocolates or flowers , purchase the most  romantic Gadget for your love.  The Evoz Smart Parenting Monitor is the ultimate in Valentine's day gift that will provide you with a wonderfully quiet and romantic Valentine's dinner.
Evoz had redefined how parents can monitor their children. With the help of an Internet (3G, 4G, or WiFi) connection. this smart parenting monitor will turn your smartphone and / or tablet into a smart baby monitor. By leveraging a HD 720p/30fps wide angle camera, you can watch little Johnnie or Jane rest quietly in their slumber of tranquility.
And should they happen to have their sleep disturbed, you can talk or sing to your baby via two way communication from your smart phone. The monitor also has a built in night light in the monitor's base that helps to illuminate the room. The luminosity of the night light can also be controlled and adjusted from your smart device.
Evoz knows that some times it takes a little bit longer to put little Johnnie or Jane to sleep. Parents can also play pre-loaded lullabies, music and even audiobooks . The monitor also keeps an eye of the room temperature and alerts you should it vary outside the recommended thresholds.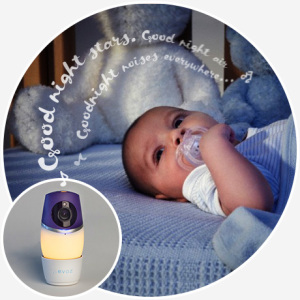 Beyond the baby monitoring functionality, the Evoz Smart Parenting Monitor has intelligence built into its IOS and Android app. The app's intelligent cry detection algorithms in conjunction with the smart monitor will alert parents of a child's disturbance. Parents can receive SMS, Email or Push alerts from the app.
If enabled, the Evoz also tracks data such as crying, feeding, sleeping, changing, temperature data. This data can be exported so that the data can be shared with coaches and doctors. Evoz also allows you to capture pictures, videos and milestones and store them in a electronic scrapbook.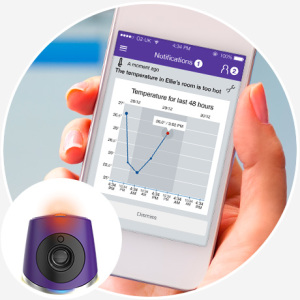 This Valentine's day, get that romantic feeling back with the Evoz Smart Parenting Monitor..  Keep a watchful eye on the one you treasure the most and spend more time with your Valentine.
Features
Alert Options: SMS, Email or Push
Resolution: Up to 720p/30fps
Viewing Angle: 102°
Temperature Monitoring: Monitor tracks baby's room temperature
Evoz Smart Parenting Toolbox App: Available on iOS 7+ or Android 4.1+ phones or tablets
Status: Launch February 16th on Indiegogo
For more information or to acquire: The Evoz Smart Parenting Monitor
About Evoz
As the global innovator in the development of smart monitoring devices and services, Evoz has redefined how families all around the world monitor their baby as well as their home through two revolutionary products, Evoz Baby and Evoz Home. Monitoring as a starting point for a totally connected home.