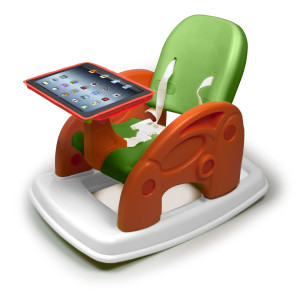 Like it or not kids are being exposed to technology at a younger age.
Having relatives with young children I have realized how toys have changed since I was small. Today in addition to playing with traditional toys, kids also are exposed to Tablets and other electronics to help them learn, sleep, enjoy the car ride and even go potty.
Our friends at CTA Digital first introduced us to the 2-In-1 iPotty with Activity Seat for iPad, a device that allows you to train your child to potty while keeping him or her occupied.  Building on this success, CTA has now introduced the iRocking Play Seat for iPad With Feeding Tray. This cool device enables little Johnnie or Joanie to play with the baby Gizmos while sitting comfortably and safely in this rocking seat.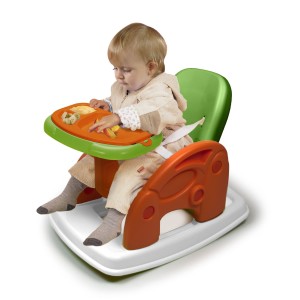 The rocking stand has a 3-point safety harness so you can secure your child, while the adjustable stand can provide the perfect viewing angle for your toddler. The stand can be set to 3 different angles, rotates 360° and can switch between horizontal and vertical views .
What I like about this device is that it was designed to ensure that your child has a enjoyable experience without worrying about spills and falls of their food. The Feeder tray which is dishwasher safe has three compartments that are spill safe. The touchscreen cover wraps around the iPad to protect against your child's messy, stick fingers.
CTA ensures your toddler's gadget experience is safe and fun.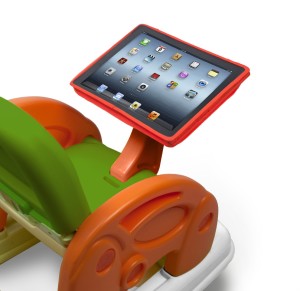 Features
Dimensions 26.3 x 16.9 x 8 inches
Weight 10.4 pounds
Compatible with iPad (2nd-4th Generation)
Designed for children 12-36 months old
Rocking seat with stand for iPad
Reclining backrest adjusts to 2 positions
3-Point safety harness to secure young children
Seat easily converts from rocking to steady position
Attachable dishwasher safe feeding tray with 3 compartments
Adjustable stand securely holds and helps protect iPad while kids play
Clear touchscreen protector guards against smudges and messy hands
360° Rotating stand easily switches between horizontal and vertical views
For more information or to acquire: iRocking Play Seat for iPad With Feeding Tray by CTA