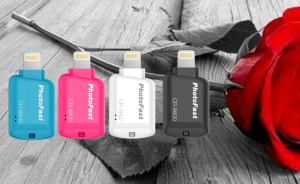 If you are searching for that perfect Valentine's Day gift that will make her feel like that goddess she is, then look to replace your traditional (roses and chocolate) with the uniquely glamorous gadgetry from PhotoFast. Whether you've been dating for a few days or many years, nothing says that you care than that highly personalized tech memento.
Topping this year's list is the PhotoFast CR8800 iOS Card Reader. This stylish, pocket-friendly portable storage device will help you to store and share those precious life moments. Small, sleek, stylish the PhotoFast iOS Card Reader is the size of an eraser (33.1 x 18 x 9.1 mm) and available in  4  fashionable colors. This very personalized, nostalgic and unique gift is the worlds smallest micro SD card reader. It plugs into a Lightning connector port of your iPhone, iPad, iPod and provides storage up to 128 GB.

The PhotoFast i-FlashDrive ONE App is available for free to download and has a cornucopia of features. In addition to backing up, storing data and transferring. The PhotoFast CR8800 streams videos via Airplay. I love that PhotoFast has looked outside the box with the Cloud storage integration with many well used vendors including iCloud, Dropbox, Google and Baidu. Looking to appease the highly social younger generations, the CR8800 also provides direct play, copy, backup access to Youtube, Facebook, Tumblr, Flicker and Instagram Social media sites.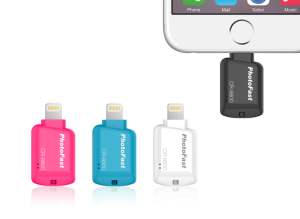 Priced at $39.99 PhotoFast CR-8800 iOS Card Reader is a cost perfect alternative. The best of all, at the end of February when those chocolates are finished and flowers are faded, this gift will still be there capturing those romantic, life moments.
Features and Specifications
Size: 33.1 x 18 x 9.1 mm
Weight: 3 ± 0.5 g
Connection type: Lightning
Storage: up to 128 GB
Supported devices: iPhone 5/5c/5s/6/6 Plus/6s/6s Plus, iPad Air/Air2/mini/Pro
Form factor: standard microSD card reader
File type supported:

Image: Jpg, jpeg, png, bmp, gif, tif, tiff, ico, xbm, cur
Audio: mp3, aac, aif, aiff, wav, m4a, caf
Video: mp4, mov, m4v, mkv, avi, flv, rm, rmvb, wmv, vob, 3gp
Document: pages, number, keynot, doc, docx, xls, xlsx, ppt, pptx, rtf, txt, html, pdf

i-FlashDrive ONE (Free) App:

Compatibility: iOS 7/8/9
Play/copy/move/access videos, Flickr albums, music
Features: zip files, access YouTube, access Vimeo, touch id app lock, video recording, etc
Backup: photos, contacts, calendar, Facebook album, Instagram photos, One Touch, Google drive, Dropbox

<

Cloud support: Dropbox, Google drive, iCloud drive, Baidu
For more information or to acquire the: PhotoFast (CR-8800) iOS Card Reader
About PhotoFast
Established in 2003, ]PhotoFast is the largest online photo printing service in Taiwan. PhotoFast is also premium Smart Accessory brand that focuses on design, innovation, premium quality, and functionality.