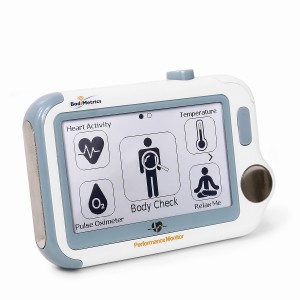 Enhanced mobile performance Health Tech may impact prevention of health related issues.
In North America, the population of people 65 years and older is now larger and growing faster than the population at large. The bulge of aging baby boomers has put pressure on the health system. Baby boomers are challenged by a variety of health issues including almost twenty percent have diabetes and fifty percent will take medication for hypertension. Despite these health challenges, Boomers are expected to live longer than any previous generation. This larger, dependent population will place a tremendous load on our health systems.
Our friends at BodiMetrics™ are aware of the health challenges and have stepped up to develop a proactive remote performance health and wellness device for both the young and old. The BodiMetrics™ Performance Monitor is a small, lightweight (3 ounces) device that will deliver proactive health care performance monitoring in the palm of your hands.
The BodiMetrics™ Performance Monitor helps the consumer to self monitor their body metrics including heart rate, blood pressure, blood oxygenation and body temperature. Whether healthy or health challenged, consumers can benefit from leveraging this Portable Health monitor for its proactive health metrics.
BodiMetrics™ Performance Monitor runs on (included internal) rechargeable Lithium Metal battery that lasts for over 15 hours of continuous use . Simply plug in a micro-USB cable into the port on the side of the device.  Charge time was less than 2 hours. The device is very easy to use, cable free, dust resistant and drop tested up to 1.0 meter, The BodiMetrics™ Performance Monitor is IP22 water resistant which means it should work if accidentally splashed or exposed to light rain.
How to use monitor your Heart Activity
While the design technology behind the device is complex, the application of the device is quite simple. Turn on the BodiMetrics™ Performance Monitor. In order to check your heart activity simply:
Sit down, relax
Press the Heart Activity icon on the screen
Hold the device gently and touch three of the electrodes
Wait for a few seconds and the BodiMetrics™ Performance Monitor will start to measure your heart activity
When the device is finished you will see your heart rate (beats/minute) measurement displaced on the touch screen along with high level feedback (ie rate low, medium, high ranges)
Although the BodiMetrics™ Performance Monitor is no substitution for health advice provided by your medical professional, it is a great way to proactively monitor your health and wellness vital signs.  One important thing to note is that the BodiMetrics™ Performance Monitor  is not suitable for people wearing a pacemaker or any other internal medical device.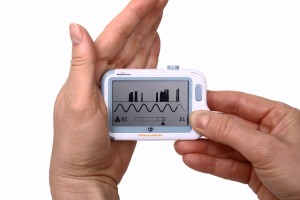 Relax Me
This BodiMetrics™ Performance Monitor has a proactive meditation relaxation app that will bring more joy and peace of mind into your daily work and home life. Many mental health experts indicate that diaphragmatic breathing is the cornerstone of stress relief. The Relax Me app takes you through a guided diaphragmatic breathing meditation. Simply watch the screen, inhaling and exhaling as the curve moves up and down. You will receive feedback as to what your actual breathing rhythm is, the darkened area of the background sine curve shape — go up and down. At the end of your session (when you press the Home button) you will receive feedback in terms of the relaxation index.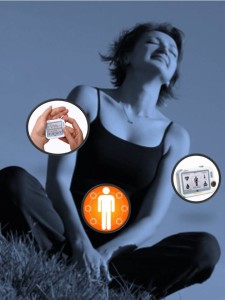 Mobile Records
The BodiMetrics™ Performance Monitor communicates wirelessly, via Bluetooth to Android™ and iOS™ -based devices, so that you can upload the reports to your mobile device and easily share the information with your medical physician. The free performance monitor app is available for Android 4.0+ and iOS 7.0+ devices. After downloading the App to your mobile device, sync it via Bluetooth and enter in the PIN (provided on the screen of the Performance Monitor). You can now download any of the information captured for any of the Body, Heart Activity, Pulse Oximeter, Temperature, Relax Me and Pedometer activities.
With a larger Boomer population, simple to use, portable enhanced Health monitoring mobile Tech such as the BodiMetrics™ Performance Monitor presents a wonderful opportunity in preventative Home Health Monitoring.  Beyond the money it may save our health system, the hope is that it will impact proactive management of known health issues and increase well being.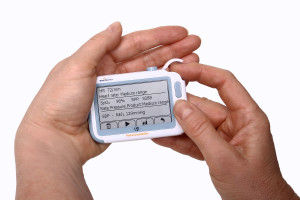 Features and Specifications
Dimensions: 3.5 x 0.5 x 2.2 inches / 88 × 56× 13 mm
Weight: 3 ounces / 64 g
Monitor up to 4 users
Restrictions: Not meant for users with a pacemaker (or other internal medical devices) or are pregnant
Medication reminders
Pedometer
Relaxation "Relax Me" program
Reminders: Run "Body Check", Exercise, Run "Relax Me", Doctor's appointment, Wake up, Take Medicine, Create custom task
Mobile App:

Connectivity: Bluetooth
OS Compatibility: free App available for Android 4.0+ or iOS 7.0+ devices
Hardware Compatibility: iPhone 4s+, iPad 2+, mobile Android phone or tablets

Health Metrics:

Electrocardiography (ECG)
Heart Rate | Systolic Blood Pressure
Heart Rate Variability (HRV)
Blood Oxygenation (SpO2)
Body Temperature
For more information or to acquire the: BodiMetrics Performance Monitor
About BodiMetrics™
Bodimetrics™ is dedicated to empowering consumers with products, services and solutions that will allow them to take charge of their healthcare, lower overall cost and improve their wellbeing.